RENOVATE PHARMACY USP 797/800
Location: Hampton, VA
Scope of work: Federal Government Design/Build project to design and renovate the Pharmacy to comply with the new U.S. Pharmacopeia Convention (USP) 800 and 797 codes and regulations. In addition, design, procure and install a mobile Pharmacy trailer to be utilized as temporary compounding space during construction and to remain in place for future Pharmacy operations. The design includes fully signed and sealed contract drawings and specifications. The renovation of spaces for Ad-mixture, Unpacking, Ante-rooms, Oncology, and other associated existing pharmacy space include HVAC systems and controls, plumbing, fire protection, architectural, and electrical systems.
Target Completion: Summer 2022
BATHROOM UPGRADES
Location: Hampton VAMC
Scope of work: Federal Government project to demolish, renovate and upgrade 134 bathrooms in 16 buildings throughout the entire VA Campus. Work includes demolition and asbestos and lead abatement; new ceilings, walls, and ceramic tile; new toilet accessories and bathroom partitions; water heaters, sinks, urinals, and toilets; HVAC fans; and new lights.
Target Completion: Spring 2023
INSTALL SOFTWATER EQUIPMENT
Location: New Orleans, LA
Scope of work: Federal Government project to furnish and install new softwater equipment and all associated piping and utilities for a fully functioning softwater treatment system. Due to excessive water hardness produced by the City, a water softener is needed in order to preserve existing equipment and systems at the VA medical center. The softwater system will be fully integrated into the medical center's existing domestic water system. The work includes: removal and relocation of existing utilities, installing new utilities inside and outside the existing Central Energy Plant.
Target Completion: Fall 2021
RENOVATE AND EXPAND DOMICILIARY
Location: Hampton VA Medical Center, Hampton, VA
Scope of work: Federal Government project to renovate 37,037 square feet in five Domiciliary Buildings and to construct two building additions of 2000 square feet in the patient care areas and a new fitness center. Renovation includes all new plumbing, ductwork, HVAC equipment, and electrical systems. All bathrooms receive a full renovation. Project to be conducted by building in five phases. SAW is to procure a temporary Domiciliary modular building to allow for treatment during renovation. The VA will move out of each building, occupy the modular building during renovation, then move back to the fully renovated building before moving to the next subsequent phase.
Target Completion: Spring 2023
BOILER PLANT & STEAM DISTRIBUTION SYSTEM
Location: Alexandria VA Medical Center, Pineville, LA
Scope of work: Federal government project to renovate the existing 8,000 square foot boiler plant and the construct a new 2,087 square foot building addition. Building 14 will house three new 600 HP fire tube boilers and the addition will include electrical equipment room, control room and personnel facilities, and a new 400kW emergency generator. This project will also replace the existing underground portion of the high-pressure steam distribution and pumped condensate return system including replacing four existing fuel oil tank.
Target Completion: Winter 2023
POLYTRAUMA INTEGRATED REHABILITATION CLINIC
Location: H.H. McGuire VA Medical Center, Richmond, VA
Scope of work: Federal Government project for the construction of the new 18,000 square foot Polytrauma Integrative Rehabilitation Clinic. Sitework includes earthwork, landscaping, and utilities for the 1.25 acre site. Foundations include reinforced concrete footings, grade beams, walls, and slab. Superstructure includes structural steel. Building envelope consists of modified bituminous roofing, brick veneer, metal panels, and glass curtainwalls. Interior build out includes forty-five exam rooms and offices. Infrastructure specialized systems are fire protection, plumbing, HVAC, electrical, telecom, fire alarm, security, and surveillance. HVAC work includes mechanical piping, refrigerant, ductwork, air handlers and condensing units, chillers, and DDC Controls.
Target Completion: Winter 2021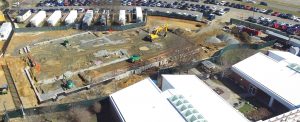 BUILDING 71
Location: Hampton VA Medical Center, Hampton, VA
Scope of work: Construction of the new 24,785 square foot Administrative Building 71. Demolition includes the full demolition of the existing Building 71 including 15,000 square feet of asbestos abatement. Sitework include earthwork, landscaping, and utilities for the half acre site. Foundations include reinforced concrete footings, grade beams, walls, and slab. Superstructure includes structural steel, trusses, and steel decking. Building envelope consists of asphalt shingle roofing, brick veneer, precast, and glass curtainwall. Interior build out includes three stairwells, two elevators, and seventy-one rooms and offices. Infrastructure specialized systems are fire protection, plumbing, HVAC, electrical, voice/data, fire alarm, access control, and surveillance. HVAC work includes mechanical piping, refrigerant, ductwork, air handlers and condensing units, split systems, and DDC Controls
Target Completion: Fall 2021
FUEL FACILITY REPLACEMENT
Location: Columbus Air Force Base, Mississippi
Scope of work: Federal government project to construct a new fueling facility, which will include three 50,000-gallon double-walled above ground horizontal storage tanks, tank-mounted pumps, a filter separator shelter, truck fill stands, recovery tank and additional related infrastructure. Other work includes replacing transfer pumps at a bulk fuel facility, along with other mechanical and electrical modifications to support the new systems. Target Completion: Winter 2021
BOILER BURNER REPLACEMENT
Location: Las Vegas VA Medical Center, North Las Vegas, NV
Scope of work: Federal government project to replace all the burners, burner controls and associated instrumentation, valves and ancillary equipment on the three existing firetube boilers. Work includes all necessary engineering and design for the new system to tie into the VA's existing system. The boilers shall connect to all utility (electrical, piping, valves, starters, control and wiring etc.) connections as necessary for "turn-key" operation. The boilers support an operational hospital therefore steam supply must be maintained at all times. Thus the contract requires the the provision for a temporary dual fuel boiler that is equal in capacity to the existing boilers.
Target Completion: Summer 2021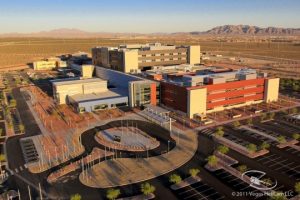 DECENTRALIZE HEATING SYSTEMS
Location: Joint Base Lewis McChord, Tacoma, Washington
Scope of work: Design-build project to convert 58 buildings (such as barracks, motor pool and work bays, and office space) on Joint Base Lewis McChord from central heating plant heating systems to individual, local heat sources. Types of heating systems will be hydronic heating with new natural gas fired boilers and water heaters; natural gas fired infrared heating systems for motor pool and hangar work bays; and heat pumps. In several buildings, additional mechanical space will be constructed to accommodate new heating system equipment. Work also includes decentralizing all buildings connected to Central Plants 9, 10, and 11 and decommissioning and "mothballing" the central plants.
Target Completion: Winter 2020
NEW BOILER PLANT
Location: Malcom Randolph VA Medical Center, Gainesville, Florida
Scope of work: Replacement of three aging water tube boilers with three fire tube boilers that provide steam for the whole medical center campus. A new 6,800 square foot boiler plant building and graphics control station will be constructed. The current boilers will remain online until the new boiler plant is ready for operations after commissioning. Once the new boiler plant is placed in service, the current boilers will be demolished and removed. The boiler plant building includes foundations, concrete, structural steel, roofing, brick envelope, finishes, and all mechanical, electrical, plumbing, fire protection, and specialized systems.
Target Completion: Winter 2020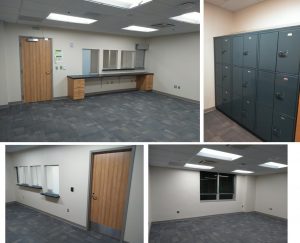 PHYSICAL SECURITY REQUIREMENT AND POLICE SERVICE
Location: Hampton VA Medical Center, Hampton, VA Scope of work: Renovate and upgrade 2,969 square feet of Police areas in three buildings. The work will consist of demolition, asbestos abatement, doors, wall partitions, finishes, Division 10 specialties, casework, fire protection, plumbing, HVAC, electrical, telecom, access control, and surveillance.
Target Completion: Winter 2021